APSFA Find A Doctor List
With the help of our Medical Advisory team our forum members & other APS patients, we have compiled a list of doctors who are familiar with APS and who currently treat APS patients.
The APSFA does not endorse any of these doctors, they were simply suggested to us by others. The doctors on this list may not be "experts" in APS, but someone along the way has had luck with them. You may not have the same luck. Please be sure to call the office to ensure that the doctor will take your health insurance and is accepting new patients.
The doctors list is split up into regions and then is in alphabetical order by State, specialty and then by the doctor's name. Click on the states or abbreviations below to find doctors in that state.
We're looking for more doctors to add to our list. If you want to add your doctor or find a doctor that needs to be removed from our list, please use the form on our contact us page.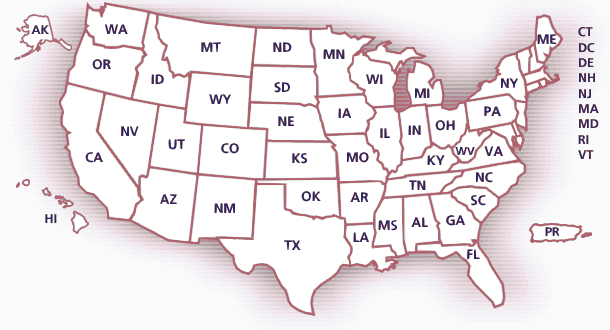 AK AL AR AZ CA CO CT DC DE FL GA HI IA ID IL IN KS KY LA MA ME MD MI
MN MO MS MT NC ND NE NH NJ NM NV NY OH OK OR PA RI SC SD TN TX
UT VT VA WA WI WV WY
For a list of Doctors outside of the USA, please see our Downloads page.
As stated above, the APSFA does not endorse any of the Doctors listed on this page, they were all recommended to us by APS patients or members of our Medical Advisory Team. The APSFA is not responsible for the care received by said doctors. We do try to verify each doctor's name we receive on the American Medical Association's website.
Page last reviewed: 12/30/2015
The APS Foundation of America, Inc. website and forums are both volunteer run and funded by donations to the APSFA.
Website hosted by Dreamhost. Website created and maintained by Heidi P.

DISCLAIMER: APS Foundation of America, Inc. website is not intended to replace standard doctor-patient visits, physical examination, and medical testing. Information given to members is only an opinion. All information should be confirmed with your personal doctor. Always seek the advice of a trained physician in person before seeking any new treatment regarding your medical diagnosis or condition. Any information received from APS Foundation of America, Inc. website is not intended to diagnose, treat, or cure. This site is for informational purposes only. Please note that we will be listing all donor or purchaser's names on the Donor page of our foundation site. If you do not want your name listed, please contact us to opt out. If you think you may have a medical emergency, call your doctor or 911 immediately.
APS Foundation of America, Inc. will be building a database with your email, name and address information for future mailings. Your information will be kept confidential and not sold to any third parties. You may opt out at anytime by emailing us.
APSFA ©2005-2016 | APSFA Privacy Policy | APSFA Advertising Policy | 501(c)3 Public Charity EIN #203085295